"Your cows are in my front yard."
Cue gallons of adrenaline and cortisol running through my body!
Anxiety? You betcha. Or maybe more like being hooked up directly to the electric fence charger!
Here I was half a continent away, nothing I could do about it.
This is an unusual circumstance, maybe, but anxiety is an all-too-common issue farmers bring to me in our coaching sessions daily.
It's more like, "we sold out of all our meat during COVID and we're still not making money."
Or, "I'm working from 6 AM to 11 PM when I fall into bed exhausted and we're still not getting it all done."
Anxiety is a UNIVERSAL emotion that we all have to deal with every single day living on our farms. But some deal with it better than others.
I was one of those who didn't know how to deal with anxiety in a healthy way for SUCH a long time. I share my own battle with anxiety in a little more detail in this week's episode, but what I will tell you is that if you don't learn how to manage anxiety it has the potential to break you.
I want you to understand that you CAN OVERCOME! And when I say overcome, don't misunderstand me. Many may think if you overcome it once you'll never have to deal with it again. But that's not the case.
In this episode I'm going to teach you the one critical skill to manage your anxiety right NOW.
After listening to this episode, you'll find it a little easier to breathe. Not because your anxiety has been "cured", but because you now know HOW to manage it in a way that doesn't let it control you!
Remember: YOU CAN and WILL OVERCOME!
This very episode WILL change your life. Don't miss out!
Listen to episode #77 right now!
Warmly,
Charlotte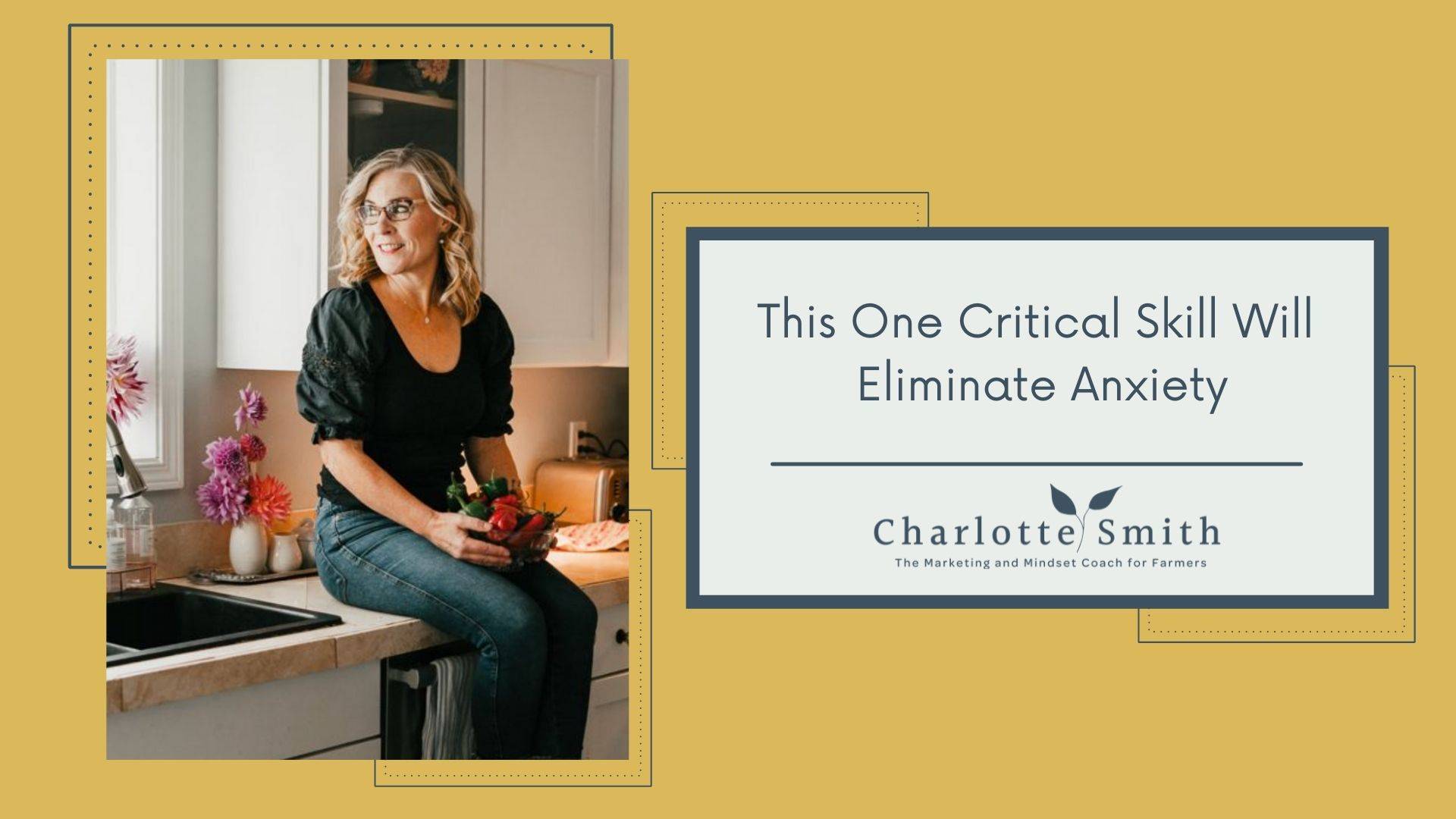 More Ways to Listen
Apple – iTunes
https://podcasts.apple.com/us/podcast/profitable-mindset/id1461523532?mt=2
Android
https://www.subscribeonandroid.com/profitablemindset.libsyn.com/rss
Spotify
https://open.spotify.com/show/5Z5OYFrpleJUhoP321aAT0?si=gBR918wAQ6i1x6Le_zcb9g
Stitcher
https://www.stitcher.com/s?fid=397073&refid=stpr
Google Podcast
https://play.google.com/music/listen?u=0#/ps/Ip4v7yb4yrk4j47bo2gfnvytqn4
Subscribe & Review in iTunes
Are you subscribed to the Profitable Mindset Podcast? If you're not, I highly encourage you to do that today. I don't want you to miss an episode. I'm adding a bunch of awesome content and if you're not subscribed there's a good chance you'll miss out on something special.
Click here to subscribe in iTunes!
Now if you're in the mood for giving, I'd be really grateful if you left me a review over on iTunes, too. Those reviews help other people find my podcast and they're also fun for me to go in and read.
Just click here to review, select "Ratings and Reviews" and "Write a Review" and let me know what your favorite part of the podcast is. Thank you!
Links Mentioned in the Episode
Work with Charlotte ONE-on-ONE privately here:  https://3cowmarketing.com/strategy
Get the complete transcript by clicking HERE.